Enter the crypt…
... and unlock a world of refined beauty. Venture into the depths of our hidden sanctuary and discover a treasure trove of high quality home fragrances, exclusive art and homewares. Immerse yourself in a realm of intricate scents and captivating designs - for the brooding maximalists, macabre enthusiasts and diverse individuals.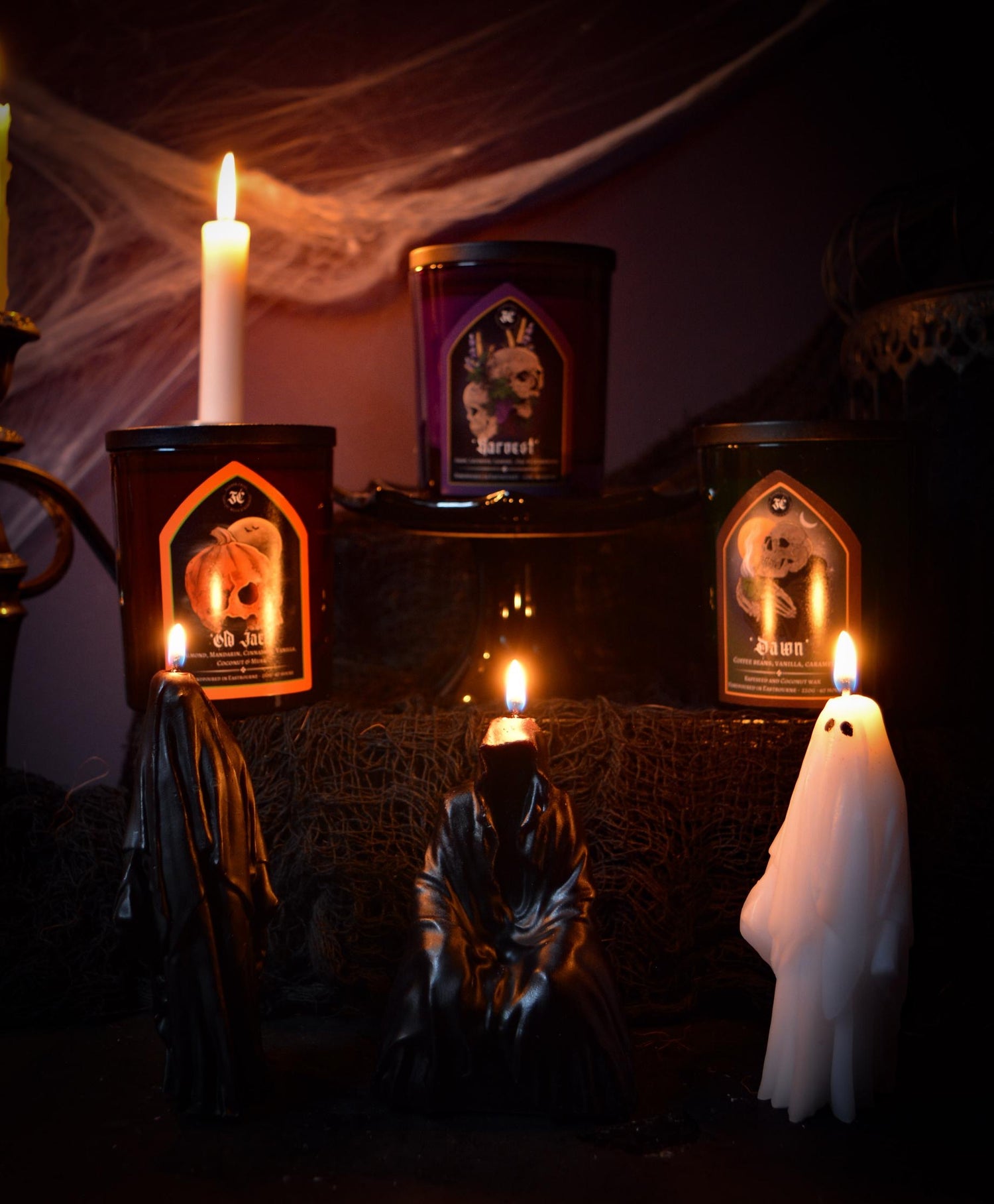 Full Autumn Collection now available
As the days grow shorter and the air turns crispier, our beautifully crafted seasonal candles and wax melts evoke the essence of autumn with their rich and warm aromas. From pumpkin spice with 'Old Jack', fruity wood notes with 'Harvest', to the comforting coffee scent of 'Dawn'. Our hauntingly beautiful ghoul pillar candles also join the gang too, so there is something for everyone this season!

Shop Seasonal
'Ed the Head' - Order now!
Quite possibly the biggest release for Flicker Crypt since our launch. Meet Ed the Head, a gigantic 2kg human skull replica candle that can either be burned or left as a stunning piece of gothic decor. Each Ed is individually handpoured one by one. The skull mould was custom made and due to the expense and time involved with making just one mould, there is only one currently in production. This makes each Ed candle so special.

Order now
"Insane"

The smell is insane! Beautifully presented and I could smell the candle before I even opened it all up. I can't recommend these candles or wax melts enough."



Alice, East Sussex

"Won't buy anywhere else"

I am addicted to this brand. I've been buying candles since I was 10 years old, now 38! It's not just the awesome scents that draw you in, it's the professionally detailed art work and the amazing quality. I have each and every candle that has come out so far. Take a leap. You won't regret it. I won't buy candles or melts anywhere else."

Chevonne, West Sussex

"Perfection"

I can't rate these candles high enough. I have all the fragrances and love them all. They burn really evenly and last forever. The candles are equally as good to look at and I have them on display everywhere. I don't really buy candles from anywhere else now and why would I when I have found perfection?!"



Amanda, Rotherham.

"I'm in love"

The quality is better than any shop bought candles I've purchased. The thought process that goes into the themes, linking colour and unique art work a planet friendly approach to production, materials and packaging is first class. The coverage of the scent of each candle is insane and the melts last longer than any other melts I have bought."


Karen, West Sussex

"The Best"

The 'Butter Nut' candle and wax melts smell amazing! Such a lovely, warm and cosy scent! Your products are by the best and strongest I've bought . Thank you, can't wait to buy more!


Emily, East Sussex
The Flicker Crypt Story
Made in Eastbourne, East Sussex

Located amidst the picturesque South Downs, Flicker Crypt takes pride in crafting its exceptional range of products in Eastbourne. To ensure the highest standards of quality, we source our ingredients from reputable suppliers, some of which are local to Sussex who are renowned for their superior manufacturing. 



Our commitment to using high quality ingredients in our candles and wax melts has earned us a loyal following among the discerning customers in not only Sussex, but up and down the country and overseas.

The Woman behind Flicker Crypt

Hi, I'm Sophie, the one woman show behind Flicker Crypt. I've always had a passion for creating, whether it's painting and drawing with traditional mediums or through digital artwork. There's something so fulfilling about bringing an idea to life through art. But I also have a deep love for candles, going back to childhood, and I wanted to combine these two passions in a unique way. That's how Flicker Crypt was born.


I spent countless hours experimenting with different fragrances and candle designs, trying to find the perfect balance between aesthetics and functionality. I drew inspiration from my favorite art forms and incorporated them into the candle labelling and themes. I wanted Flicker Crypt to be more than just a typical scented candle; I wanted it to be a piece of art. As someone with a background in mental health support, I know firsthand the importance of creating a calming environment, managing your wellbeing and the significance of being your true self. I wanted Flicker Crypt to not only capture this but to stand out and cater to the alternatives, with a strong ethos of embracing individuality.

Values

Flicker Crypt values uniqueness and individuality , reflectected in our gothic aesthetic and dark maximalist design. We want to stand out from the crowd and from the very beginning, it was important for us to not get lost in the vast amount of similar businesses. Our commitment to the environment though is just as important. We strive to keep our carbon footprint to a minimum by using plastic free shipping and packing materials. We have also teamed up with Tree Nation where at least 1 tree is planted with every order. These trees are planted in 1 of 2 planting projects: The Eden Project in Madagascar or The Usambara Biodiversity Conservation project in Tanzania. These trees are specially selected to benefit the local community and bio diversity.
On top of that, Flicket Crypt takes pride in sourcing quality ingredients from reputable UK suppliers to ensure the best possible products. All of our ingredients are vegan and cruelty free, and all of our fragrances are paraben and phthalate free.

Read more about The Eden Project, Tree Nation