Flicker Crypt
Regular price
Sale price
£22.00 GBP
Unit price
per
Sale
Sold out
Designed to capture the essence of fire with warmth and vitality, the 'Fire' candle is an enchanting scent making it perfect for those born under the zodiac of Aries, Leo and Sagittarius.
This fragrance begins with a bright and zesty notes of lemon essential oil, which embody the fiery spirit of Aries. The warm and spicy notes of ginger evoke the passion and creativity of Leo, while the sweet and delicate notes of tuberose embodies the adventurous spirit of Sagittarius. The fresh notes of Lily complete the fragrance, adding a touch of balance and harmony to the overall scent. 

Whether you're an Aries, Leo, Sagittarius or simply someone who loves a vibrant and invigorating home fragrance, the 'Fire' candle is the perfect choice for infusing your space with a scent that embodies the passion and vitality of spring and summer. 
Scent strength: 5/5
And now for the astrology bit:
Aries, Leo and Sagittarius embody the passionate fire element. Fire signs are recognised for their spontaneity, impulse, creativity and courage. Fire cannot be contained, and like the signs, they are often found taking the lead in a group or off doing their own thing! You can light a fire in your fireplace to keep you warm, but left unchecked, fire can also burn your house down…the fire signs can be thought of in this way; they can be great, loyal friends to have - but you definitely don't want to cross them.
Product Description
100% vegan and cruelty free
Rapeseed blend wax
Paraben free
Handpoured in Eastbourne, East Sussex
Size - 210 net weight, jar dimensions 78 x 93mm
Burn time approximately 40 hours
1 tree planted with every order through Tree Nation.
CLP Information:
May cause an allergic skin reaction. Harmful to aquatic life with long lasting effects.Keep out of reach of children. Contains Cineols, Eucalyptol, L Carvone, Ligustral, Eugenol, Hexyl cinnamic aldehyde, limonene, pinenes.
Share
View full details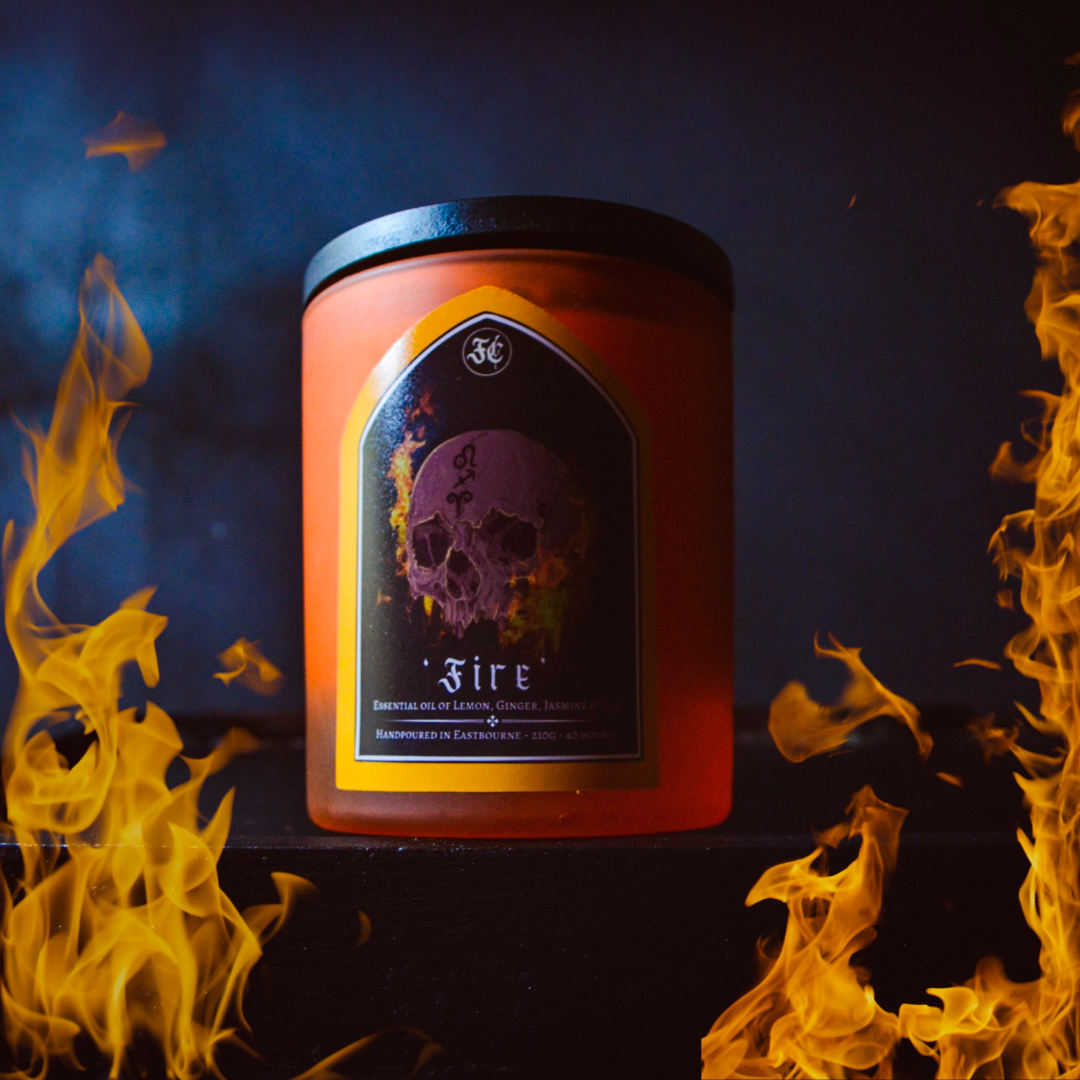 Beautiful and unique!
I Bought the 'Fire' candle as a gift for someone but ended up keeping it for myself! I wasn't expecting it to smell the way it did, it's such a unique and gorgeous smell.
It fills my living room with scent and have had lots of comments saying how beautiful my home smells. Quite possibly my new favourite!